You are here:
Cap Hill
»
For Sellers
» Selling a Home? Clean Rain Gutters Protect Against Weather Damage
Selling a Home? Clean Rain Gutters Protect Against Weather Damage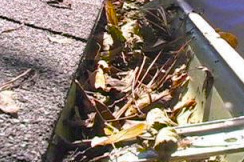 If you are selling a home, expect home buyers to be alert to any signs of water damage.  Learn  how to protect your home and minimize the damage of most storms.
Recent unusual weather events have led to increased concern about potential wind and water danger to our homes. Visual images of devastation are hard to ignore. With the approach of winter weather, you may be apprehensive about selling a home.  But basic maintenance strategies, from repairing the roof and securing insulation to cleaning the rain gutters, will help protect your home from most storm related damage.
Consider the surprisingly easy yet critical annual task of maintaining rain gutters. Clear rain gutters protect windows and doors, siding and even your home's foundation from too much concentrated moisture.  If your home has multiple stories or you are uncomfortable using a ladder, consider hiring a handyman to complete this task.  In many Capitol District neighborhoods, high roof lines and difficult access   warrant professional help.
Here's what you need to know whether you decide to hire someone or do the job yourself:  
Use a safe and solid ladder to reach your gutters. You will need to move the ladder frequently – do not stretch to reach far  areas.
Wear protective gear, such as goggles and work gloves – you never know what you'll find up there!
Use the right tools.  A small hand shovel  and bucket or disposable bag should be sufficient. You can also use a scrub brush as needed.
Test it out. Once the gutter is clear, use your garden hose to have a practice storm and track the flow of water racing through your cleaned rain gutter.
If all is well, your work is complete.  If not, look closely at your drain pipes to make sure they are not clogged as well.  Your gutter slope may need to be adjusted.
Need advice?  Contact me for help in finding critical products and services when you are selling a home.   The current market is positive for home sales and clear rain gutters will draw attention to your home's overall sound maintenance.